1
What Does It Take to Become a Six Sigma Black Belt?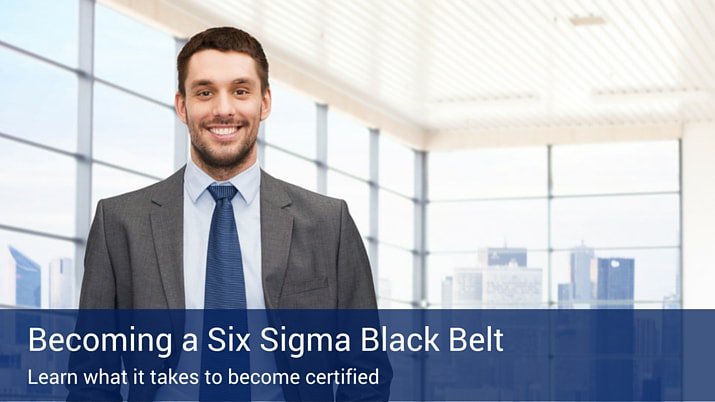 Last Updated October 19, 2023
Professionals with Six Sigma Black Belt training are highly sought-after by all types of companies because of their superior understanding of Six Sigma principles and ability to apply that knowledge to improve business function and competitiveness. Many individuals aspire to a highly visible – and highly paid – Six Sigma Black Belt role; however, they must be willing to commit the time and effort to attain that distinction.
Not everyone possesses the qualities and drive it takes to become a Six Sigma Black Belt. However, if you have or are willing to develop the necessary skills and knowledge, and if you are prepared to undergo the intensive training required to pass the certification exam, you may have a long and lucrative career ahead of you as a Six Sigma Black Belt.
Personal Qualities of a Six Sigma Black Belt
Achieving the level of Six Sigma Black Belt will qualify you for many upper-level management roles within a company. However, even the most comprehensive training cannot make up for a lack of natural leadership ability or attention to detail, which are vital to excel in these types of positions. Six Sigma Black Belts should be goal-oriented and possess outstanding management and interpersonal skills. They must be able to set an impeccable example for Green Belts and others within the organization, as well as inspire employees to work together to achieve the company's goals.
Six Sigma Black Belt Skills and Training
To become a Six Sigma Black Belt, you must complete the appropriate training before you can sit for the certification exam. Training courses in this field are generally open to candidates who have already completed Six Sigma Green Belt certification or coursework, or who have relevant experience in business process management. While it's possible to enroll in Six Sigma Black Belt training without first attaining Green Belt status, following the standard progression can make the training and certification process much easier for you, in the long run.
Six Sigma Black Belt training courses address some of the same knowledge areas as Green Belt courses, but they demand a higher level of mastery and understanding from students. They also tackle more complex concepts and calculations. By the end of your Six Sigma Black Belt training, you will be able to apply the principles of Six Sigma to any business situation and develop appropriate goals, as well as put together cohesive action plans to achieve those goals.
All types of employers – from pharmaceutical manufacturers to communications companies – are looking to hire skilled Six Sigma Black Belts, which is why completing the training and certification process can get you on the fast track to a successful career. Visit any leading job-search website, and you'll find hundreds of well-known companies actively recruiting Six Sigma Black Belts. Employers such as Quest Diagnostics, UnitedHealth Group, ADT Security Services, Rolls-Royce Energy Systems, Bank of America and Amazon Corporate LLC are hiring Six Sigma Black Belts and Lean Six Sigma Black Belts for such roles as consultant, continuous process improvement specialist, quality and business improvement manager, improvement advisor, manufacturing engineer, assistant plant manager, regional facilities manager and director of operational excellence, among others.*
Complete Your Lean Six Sigma Black Belt Training and Certification 100% Online
If you've decided that pursuing Six Sigma Black Belt certification is the right choice for you, the next step is to find the right training. It can be difficult to fit traditional training courses into a full-time work schedule. That's why many professionals have turned to the 100% online training and certification programs offered by Villanova University. Villanova offers comprehensive Lean and Six Sigma training through convenient certificate courses that prepare students to earn industry-recognized certification.
If you currently hold Green Belt certification or equivalent experience, you may be eligible to enroll in Villanova's Lean Six Sigma Black Belt certificate course (subject to submission and approval of your prior education and experience by the College of Professional Studies). If you're new to Six Sigma, you can enroll in Villanova's Six Sigma Green Belt and Lean Six Sigma certificate courses to gain the necessary background knowledge. Completion of Lean Six Sigma, Six Sigma Green Belt and one elective course will lead to a Certificate in Lean Six Sigma and prepare you for the corresponding certification exams.
All of Villanova's certificate courses and certificate programs are available 100% online through a video-based e-learning platform. The Six Sigma Green Belt and Lean Six Sigma courses can each be completed in eight weeks while the in-depth Lean Six Sigma Black Belt course runs for 16 weeks. When you participate in Villanova's online training, you'll enjoy many benefits:
Gain valuable knowledge and insights from experts in Lean Six Sigma principles and applications
View lectures, complete coursework and take exams on your schedule, anytime and anywhere
Communicate easily with your instructors and fellow students through online message boards, live chat rooms, email, virtual whiteboards and two-way voice over IP (VOIP)
Participate in live weekly interactive sessions
Prepare to take the industry's only 100% online Six Sigma certification exams
Receive a certificate when you successfully complete the entire certificate program
When you enroll in Villanova's online certificate programs, you'll not only prepare to earn Lean Six Sigma Black Belt certification, but you'll add the prestige of Villanova University to your résumé.